Fair Exchange - St (1989)

Robert

Fallen Angel Diamond




SEXO

:


ZODIACO

:



MENSAJES

: 14803


EDAD

: 49


LOCALIZACIÓN

: MADRID

Lord Ford Sammet escribió:




¿no estaban puestos? 


Muxisimas gracias por recuperarlos, rememorarlos, recordarlos y resucitarlos mi estimado amigo
Fair Exchange - Fair Exchange - 1989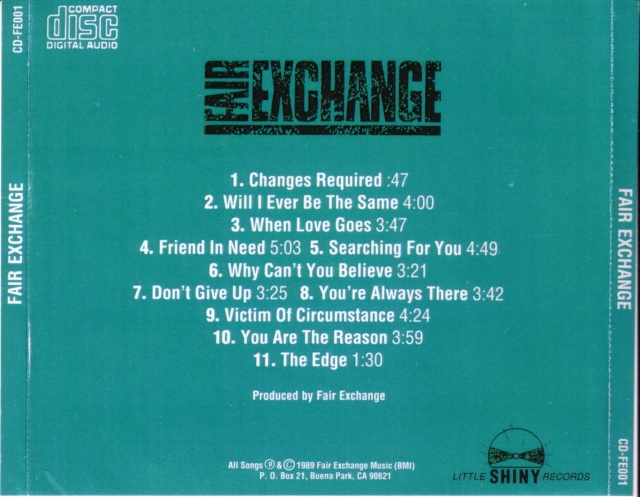 1.Changes Required   +++
2.Will I Ever Be The Same   +++++
3.When Love Goes   ++++
4.Friend In Need   ++++
5.Searching For You   ++++
6.Why Can't You Believe   +++
7.Don't Give Up   +++
8.You're Always There   ++++
9.Victim Of Circumstance   +++
10. You Are The Reason   ++++
11. The Edge  +++           
Description :
Very good Aor band who I'm pretty
sure were a Christian bunch such is the lyrical bent. Much like a cross
between D.o.x and the secular, Synch, and a fine Aor release that never
really mentions the "G" word but does spread a broader message in a
subtle way. Sundays will never be the same! Released on both CD and
vinyl.





Band Members :
Steve Headland - Guitars
Mark Pauley - Lead Vocals, Guitars
Gary Zdenek - Drums, Vocals
Mike Sumption - Keyboards, Vocals
Tom Allain - Bass



This CD has been released
a long time ago and is a great CD to be overlooked and also very underground,
The CD was released on a very small recordlabel and very hard to get. The
debut and only(???) cd of the American band FAIR EXCHANGE was released
on 1991.
It contains 11 tracks,although
2 songs are instrumental fillers. Left are 9 tracks that are very much
recommended to the fans of A.O.R./Radiorock in the style of PREVIEW,THE
PROMISE,WORRALL... FAIR EXCHANGE is only a tiny bit harder than these bands,but
generally speaking it is in the same style.
Opener "Will I ever be the
same" has a fantastic chorus and is a pure AOR/Radiorocker a la THE PROMISE.
We can hear a lot of great keys in the AOR-song "When love goes". "Friend
in need" is a great A.O.R.-ballad. "Searching for you" is a classic-sounding
AOR/Radiorocker a la PREVIEW and is also the best song of the whole album.
"Why can't you believe" and "You're always there" are 2 good AOR-songs.
"You are the reason" is great uptempo AOR with great harmonyvocals. "Victim
of circumstance" is the only weaker AOR-song and is sadly disturbed by
a saxsolo.
"Don't give up" is another
great AOR/Radiorocker that sounds like PREVIEW mixed with a 90's band such
as GHOST.
All I can say is that FAIR
EXCHANGE is very much recommended to every fan of AOR/Radiorock(very polished).
I don't know what has happened to the band since the release of 'Fair exchange'.
Mi estimado Gonzaloaor comentaba esto:  Un buen album d AOR con buenos temas a destacar en especial el corte numero 2 Will I Ever Be The Same