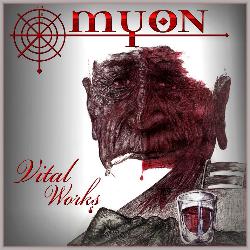 Since the first album Heavens Garden came out in 1998 Myon has continued musical evolution on every album by combining different music styles. They have also grown a loyal fan base among the rock spirited audience around the world. Myon has been continuing to challenge their audience with most intriguing musical journey. In the beginning the band was presenting progressive flavoured melodic rock, but nowadays the music has developed into unique mix of styles without losing the basic elements of contemporary rock. It works great, and to prove that Myon has performed for all kinds of audiences from small clubs to big stadions where 30 000 people witnessed the power of music.

In spite of the constant problems from labels and lack of promoting effort the band has managed to keep their loyal fan base growing through the years by making more interesting music and staying loyal to what they present.

Now Myon is back once again after seven long years working in the studio with an excellent album.

For example bands unique ability to recreate themselves and to combine new musical influences in their music is something unheard in the world of rock. The opening track "Otra Vez" is based on original tango from river plate combined with contemporary rock. As song's innovative use of Spanish chorus shows, Myon is taking rock in totally new direction with "Otra Vez".

Vitalworks contains 14 totally new songs and variety of styles makes the listening experience extremely interesting from the first seconds till the end, still managing to sound like Myon all the time. Good examples showing the variety of the album are furious "Call Of The Senses" that punches like the hammer from the power metal hell continuing with the odd time signatures displayed in "When It Could Begin" and ethereal atmosphere found in the ballad "In The Arms Of Eternity", without forgetting clever melodies everywhere. The closing track of the album "Silent Goodbye" echoes some resemblance to Pink Floyd's Dark side of the moon era.

Vitalworks is also an excellent example of almost lost art of recording and mixing quality, and it takes the listener to never before experienced sonic journey.

Vitalworks has been recorded, mixed and mastered at legendary Soundmix Studios in Oulu Finland by keyboardist Mika Pohjola. He also produced Myon's 2007's critically acclaimed album "Frameworks".

Vitalworks will be released digitally worldwide 15.06.2015, get your copy from your digital music store.